Hello friends!
It is good to be back! Of course it is always great to be away on holiday, and the South of France could be anyone's dream vacation,... but I missed my "stuff" and I missed YOU!
I did bring my large pink plastic box with scrap things that always go on holiday with me, but it is difficult to know what you are going to need before you have even started a project.
The great thing this time was that I was fortunate to make a new friend. We have been online friends for a while but it was so good to finally meet Julie Blanc and her lovely family and become friends IRL!
I may share some photos later.
This post is actually to let you know about
"Les Papiers de Pandore"
's new collection that was revealed while I was in France. It is called "Promenons Nous" which roughly means "Let's go for a stroll"
It is a very pretty collection for the Autumn, but the green, brown, apricot and plum colours that Julie has planned for us go very well with the neutral and white papers in the collection to even make pages for Spring.
Many of us still have our Summer photos to scrap, and I will show you that you can very well use this collection already for those,and you don't have to wait for the rain and the blustery weather to use it.
You do not even have to wait for the long crisp promenads in Autumn you can use it right now.
In fact I loved the collection so much that I had to ask Julie to bring more papers when she came to visit...LOL!
I think a good idea would be to get double the amount that you were planning,...lol and save half for the Autumn!
What do you think...? I told you it was just as good for summery layouts :-) .
(Sorry the angle makes it look a little crooked.)
Before I show you the close ups let me show you the
important
stuff.
Actually, why don't you grab a cup of your favourite joe and sit down to have a thorough look at the beautiful new papers and element sheets. Julie did a wonderful job!
Many of you will remember that I am not a big fan of the colour orange, but the apricot colour in "Promenons Nous" is just beautiful and I have used up all my sheets already!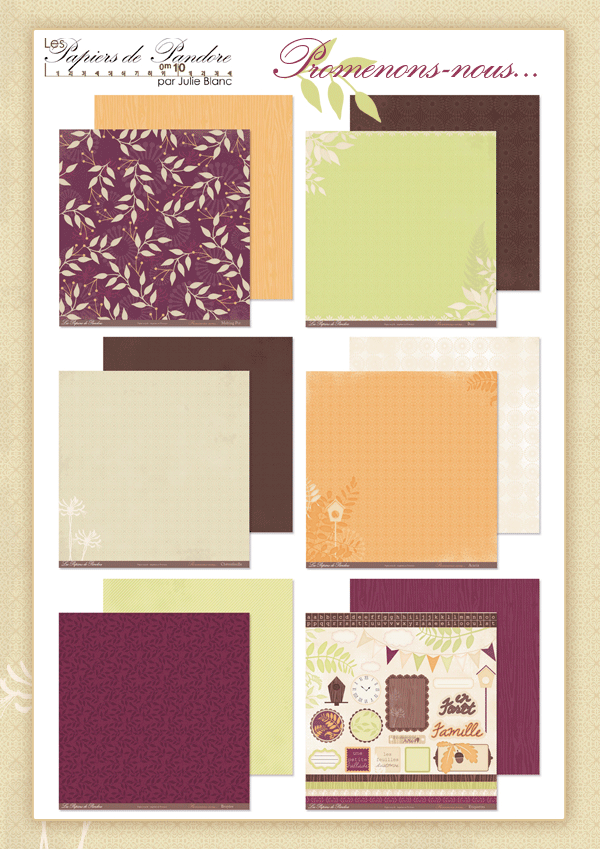 And the collection also includes some designer stamps to match perfectly with the patterns in this collection.
I love them all but especially the clock and the little twig with the hazel nut.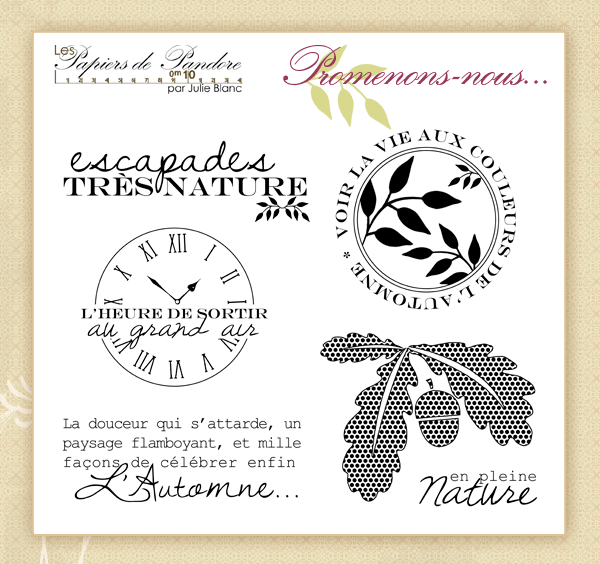 Ok, so a few close ups before I get in charge of all the dirty clothes that are staring at me from the big heap on the floor!
The green leaves are cut from the elements sheet that has such great designs. The clock face and the clouds have become my favourites together with the leaves, but I have saved that layout for next time. Just teasing a little... :o)
I made the fan fromthe apricot paper and used some ink on the edges.
The gorgeous little butterfly from lazer cut chipboard is made by
Imaginarium Designs
. I just love their chipboard. Just the best in my humble opinion!
On each side of the photo I made a little cluster with the embellishments. The lace flower is by Webster's pages. I had this little idea recently to roll up paper and make it into little spikes or what to call them. They are decorative without being overwhelming.
You will be seeing them on quite a few of the pages I have to show you I think!
I decided to try a French title this time since I am doing this DT work for a French manufacturer.
Ravissante means Beautiful and that is what my daughter is to me,...inside and out.
I bought these letter sticker in France to match the new collection and they are by Prima.
I quite like the look of the distressing here. I tried to keep it slightly understated by using two sheets that were just overlapping so the distressed edges of both would show. In this way I tried to create an effect like a border for my page.
I lined the inside of my circle with a strip punched with a Martha Stewart border punch.
Tha fabric flowers were a gift from the lovely Irma Peredne. Thanks again!
Ok, so that was it for now ladies.
Please look back here for more
Les Papiers de Pandore pages.
I have many more to share, but they still lack the finishing touches.
I even have other pages that I am looking forward to sharing when I have some more time to post!
Have a lovely week and thanks for taking some time to visit!!